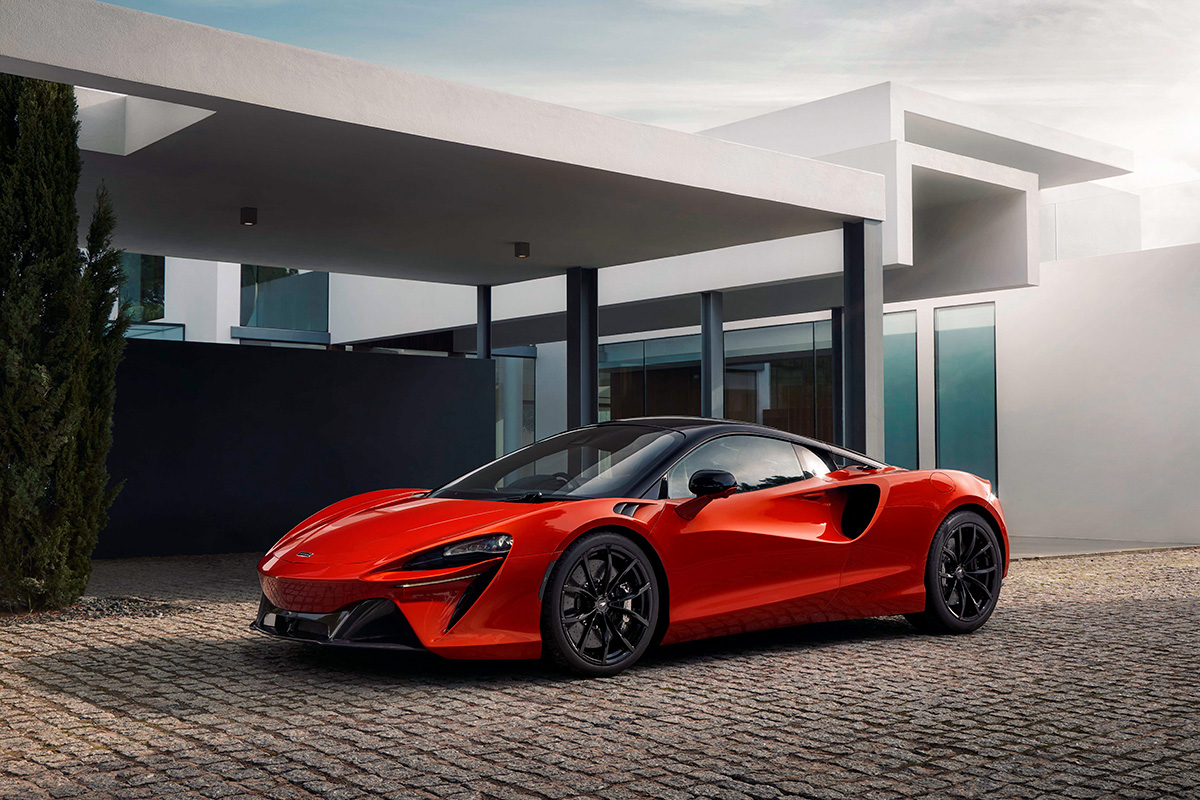 The all-new McLaren Artura just made its world debut, marking the beginning of both a new chapter for the luxury supercar company and a new era in supercar technology and performance as the company's first series-production high-performance hybrid supercar.
While the Artura may look like any other McLaren (admit it, they all look pretty much the same), looks can be deceiving, as this car was built from the ground-up, with a focus on electrification, weight, and technology.
Powering the McLaren Artura is a new 3.0-liter twin-turbo V6 engine that puts out 577 horsepower and 431 pound-feet of torque. The dry-sump aluminum engine is compact & lightweight, weighing in at just 353lbs (which is 110lbs less than a McLaren V8). It's also significantly shorter, allowing for a more efficient placement in the vehicle, and also contributing to a lower center of gravity, which is always a good thing.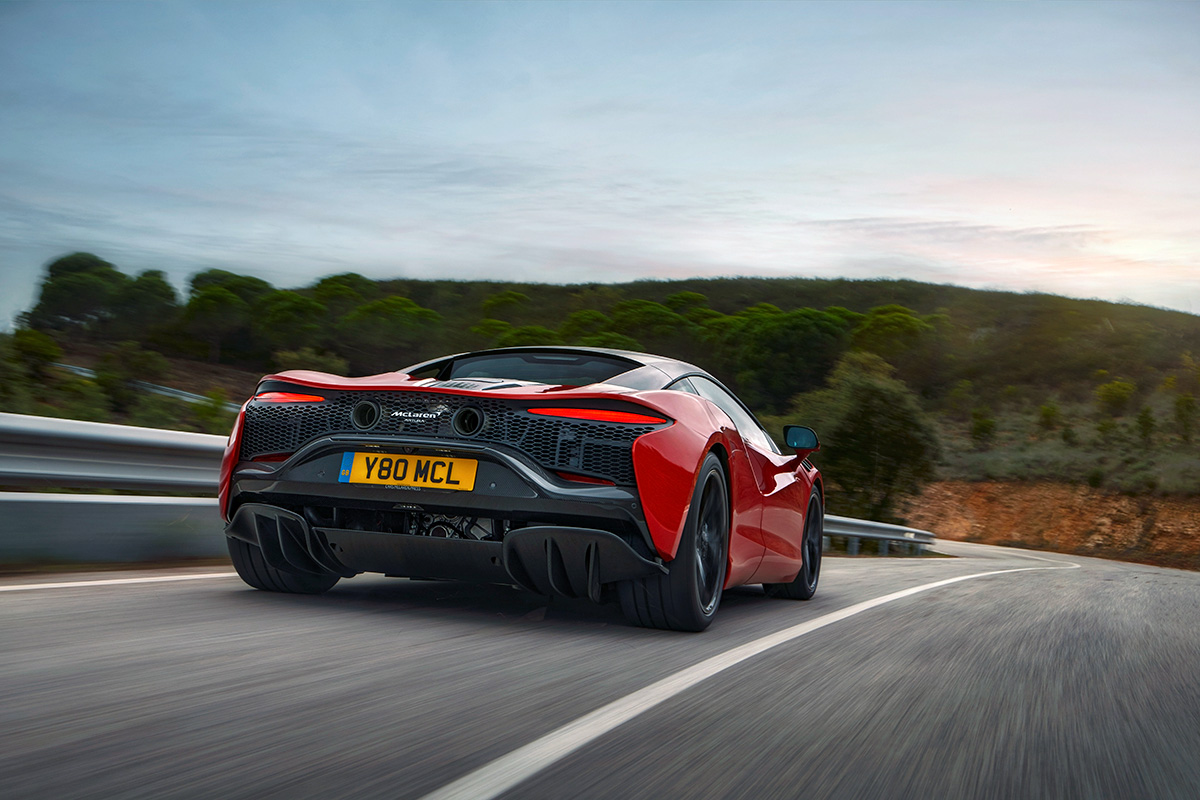 The Artura's new V6 works in conjunction with a compact electric motor that is powered by a 7.4-kilowatt-hour battery, delivering an additional 94 hp and 166 lb-ft of torque, to give the Artura a total system output of 671 hp and 531 lb-ft of torque. The electric motor has a top speed of 81 mph and an electric-only range of 19 miles. Electric motor engagement depends on which drive mode (Comfort, Sport, Track) is being used.
McLaren quotes some impressive performance numbers for the Artura: 0-60 mph in 3 seconds, 0-124 mph in 8.3 seconds, 0-186 mph in 21.5 seconds. Top speed is limited to 205mph. Power is routed to the ground through an eight-speed sequential automatic gearbox, which delivers lightning fast shifts while twin clutches enable the continuous transfer of torque from the input to the driveshafts during each change of gear.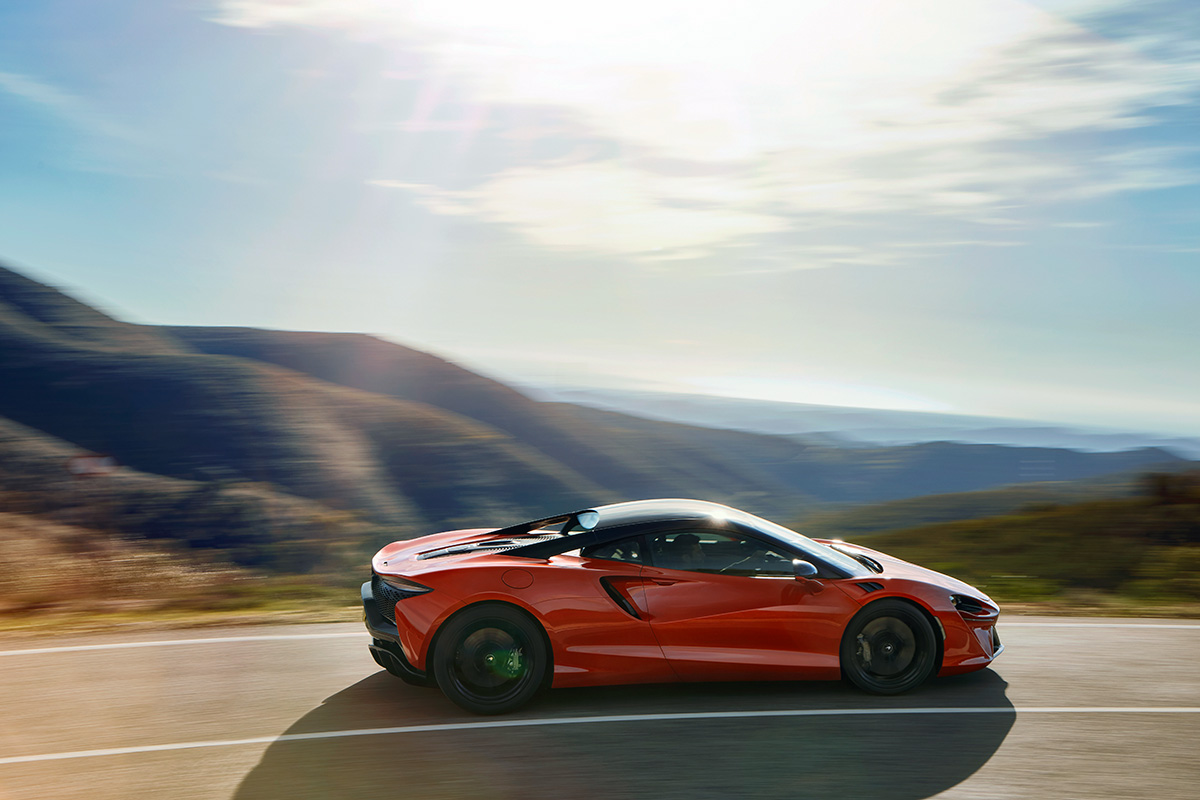 Weight is always a concern when it comes to hybrids due to their heavy batteries. But McLaren was able to keep the weight down to just 3,303 pounds, the lightest in its class. Of course, McLaren is no stranger to super-lightweight engineering, having more than half-a-century of experience in race- and road-car engineering.
Much of this was accomplished thanks to the McLaren Carbon Lightweight Architecture (MCLA), which is comprised of three elements – an all-new carbon fiber monocoque, electrical architecture and chassis & suspension structures. The carbon fiber structure additionally provides a safety cell for the battery pack and integrates further crash and load-bearing functionality. Yet it remains incredibly lightweight, weighing just 181lbs.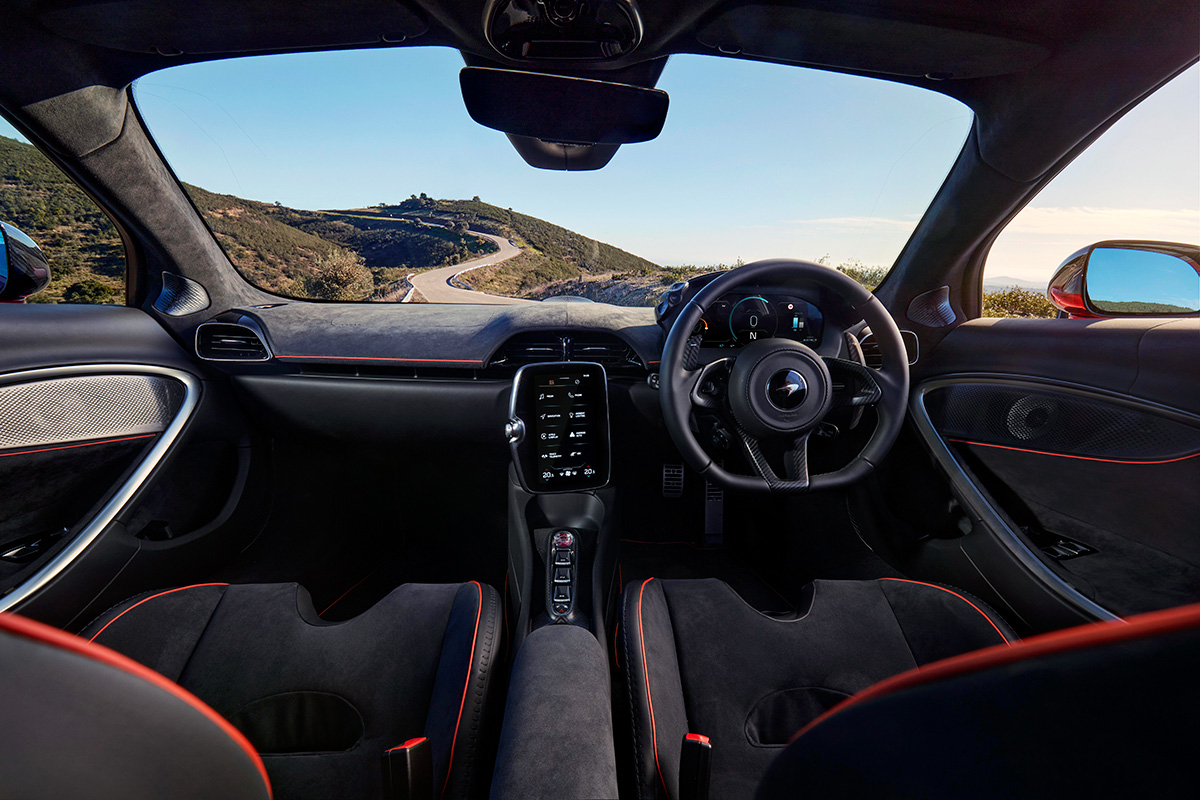 McLaren engineers focused on stability under braking; rear-end controllability; increased grip and optimized aerodynamic downforce – as well as enhanced driver engagement across the board. Key to hitting these goals is their first-ever deployment of an electronically controlled differential (E-diff), to independently control torque moving across the rear axle. Lighter, more controllable and smaller than a mechanical locking diff (it fits within the transmission), the E-diff locks and unlocks individual rear wheels to improve traction out of corners.
The innovative rear suspension system pairs a top upper wishbone with two lower links and a tie rod in front of the wheel center to maximize vehicle stability and precision, and to reduce understeer out of a corner while accelerating. The wider tires allow additional stability and better traction performance while the combo of a short wheelbase, E-diff and the physical downforce provided by the integrated rear spoiler and diffuser ensure both great agility at low speed and a high level of stability at high speed. The E-diff increases performance and driver confidence when cornering, enhancing traction and reducing levels of understeer.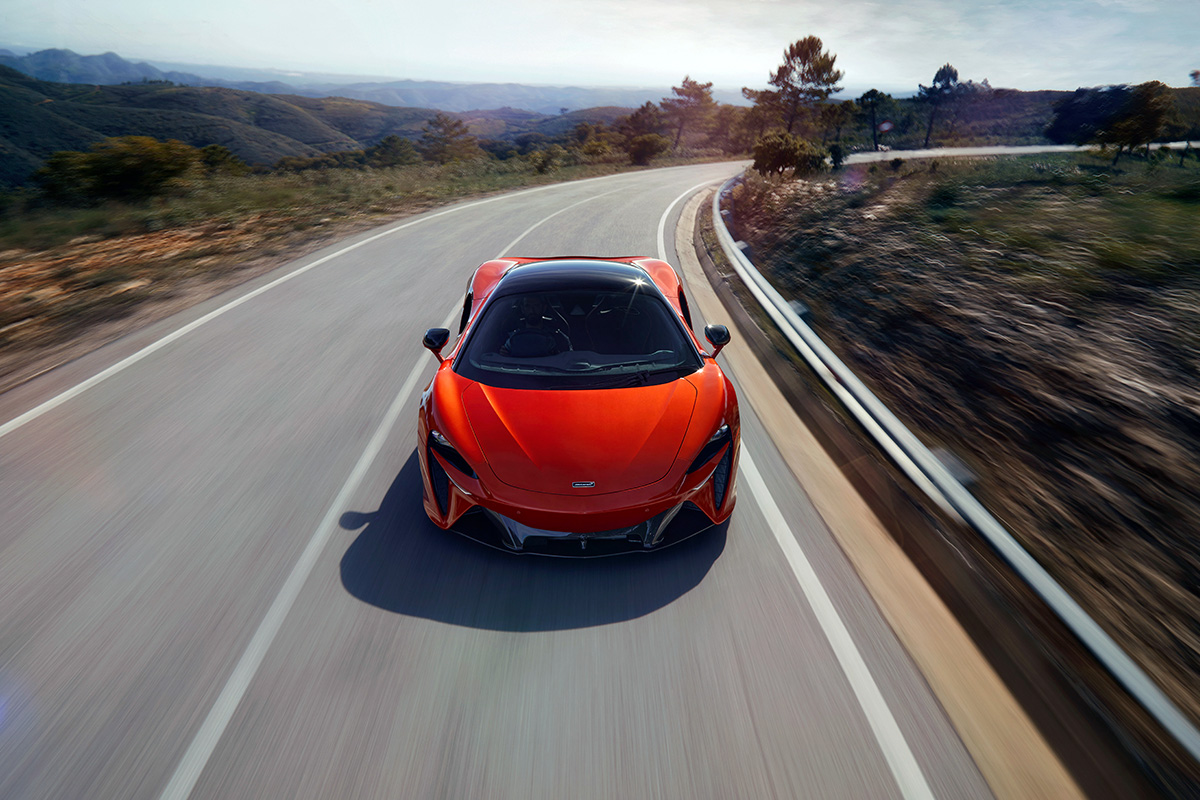 Dynamic precision is also enhanced by Pirelli Cyber Tire technology. Comprising hardware and software integrated with the Artura's electronic systems and featuring an electronic 'chip' inside each tire, Pirelli Cyber Tire generates real-time data and relays it to the car's stability control systems to optimize tire performance. Pirelli P-Zero tires are standard, with the more performance-oriented Pirelli P-Zero Corsa (outfitted with the same tech) are optional.
Steering and braking performance were both addressed as well, with the Artura getting a fully redesigned steering system that's lightweight and responsive, along with carbon ceramic brakes and lightweight aluminum calipers – and Formula 1-inspired integrated caliper cooling ducts that delivers cooling air to the front calipers and discs, reducing brake pad temperatures during track driving.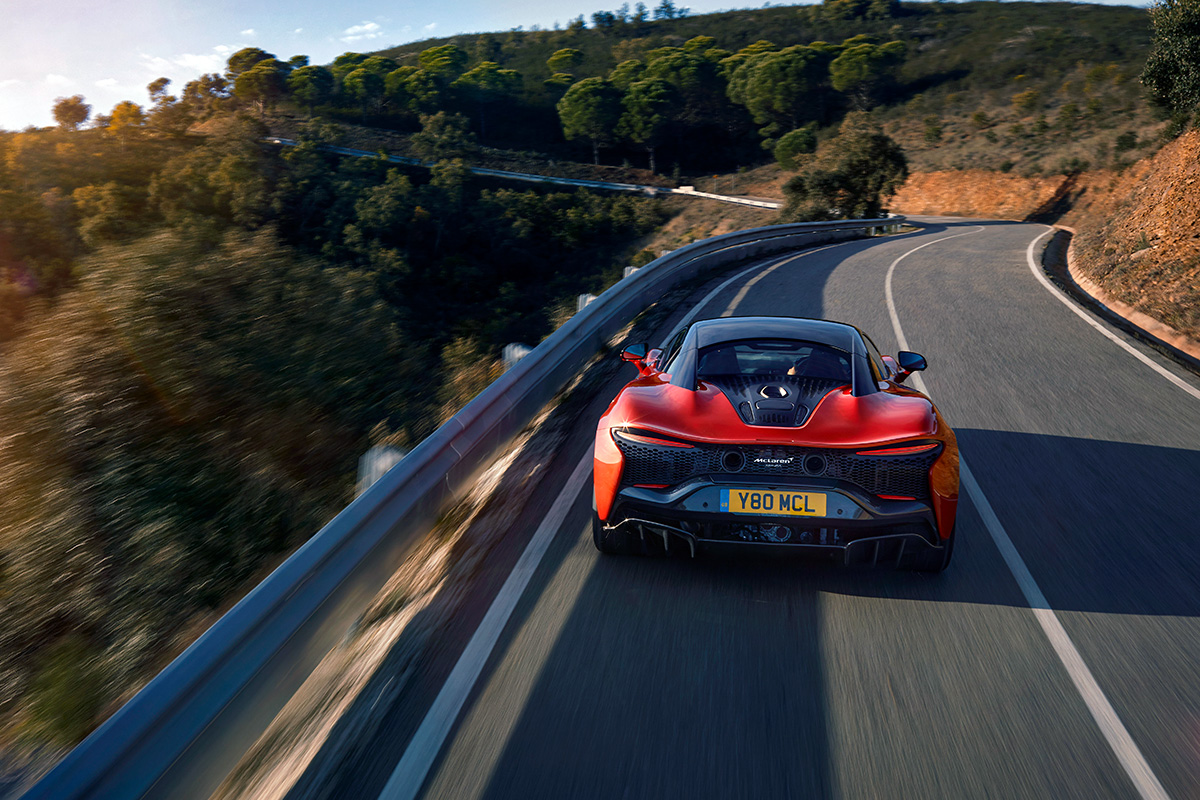 Visually, the McLaren Artura has perfect supercar proportions – a long, low sleek nose, long roofline, very fast windscreen angle and very 'cab-forward' stance. Coupled with a compact wheelbase, 19″ and 20″ wheels and high fenders and haunches, the result is a superb dynamic feel overall, enhanced by the extremely compact rear overhang. It's a very sharp looking car, though a little subdued for my tastes.
McLaren refers to the car's pure, minimalist aggressive beauty as appearing almost effortless. But in truth, every vent, duct, fold, even the door mirrors, have a specific purpose in managing airflow, cooling radiators, optimizing downforce and enabling onboard technology. Vented louvres on the front fenders, for example, reduce pressure in the wheel arches and guide 'dirty' air away from the side intakes; while 'clean' air is guided into those intakes via a complex aero path involving sculpted door channels.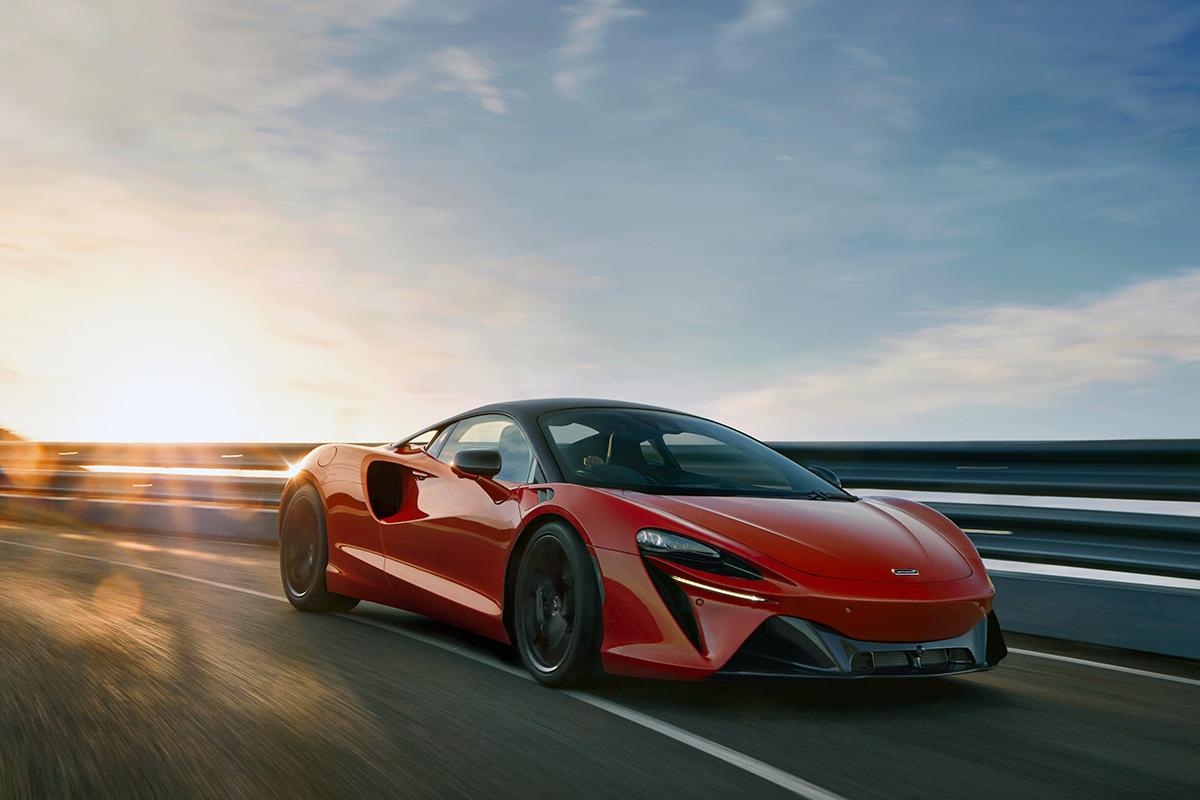 The interior of the McLaren Artura blends revolutionary ergonomics, technology, design and refinement. An increased feeling of space is created by all surfaces being as far outwards as possible in order to maximize the interior volume, and the materials used, from leathers to machined switchgear, create a technical and contemporary ambience.
Also clearly prominent is an 8-inch vertical touchscreen. This new infotainment system (MIS II) works through a series of apps, just like a smartphone, and it features voice control, Apple CarPlay and Android Auto, Bluetooth key detection, and more. Additionally, fully electric 10-way adjustable heated sports seats with memory function and comfort entry/exit come as standard equipment on the Artura in the US.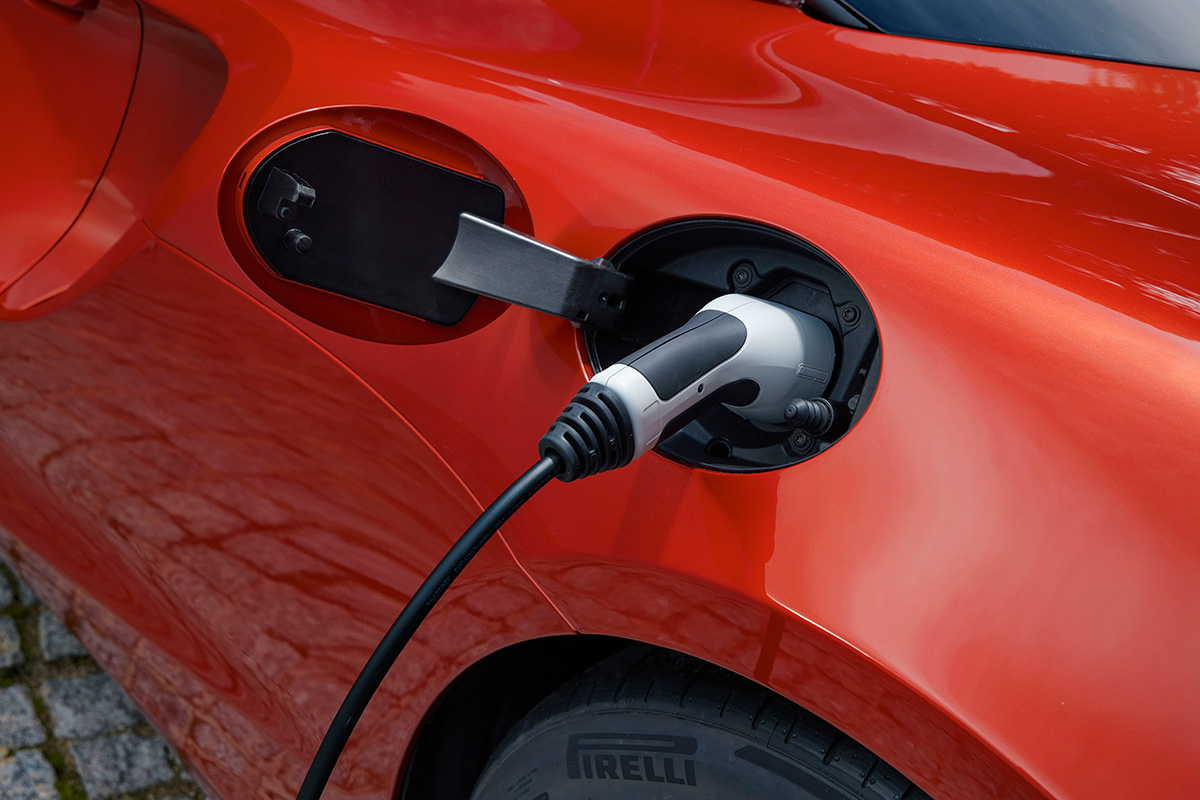 The McLaren Artura has a starting price of $225,000, and it comes pretty well equipped in base trim, with power-adjustable Comfort Seats, smartphone mirroring function and a Practicality Pack featuring vehicle nose lift, power folding and heated door mirrors, soft close doors and Homelink all as standard equipment.
Deliveries of the Artura are expected to start in Q3 of this year, and McLaren dealerships are currently taking orders. For more information, visit http://cars.mclaren.com/en/artura.