Dodge believes the golden age of performance cars is now, and they are using this year's Woodward Dream Cruise to reintroduce the brand's two famed, race-bred nameplates — The new 2017 Challenger T/A and Charger Daytona, muscle cars that deliver even more performance and precision to the naturally aspirated HEMI V-8 lineup with unique powertrain induction and exhaust enhancements, chassis upgrades for greater handling and braking, plus functional performance styling appointments inside and out.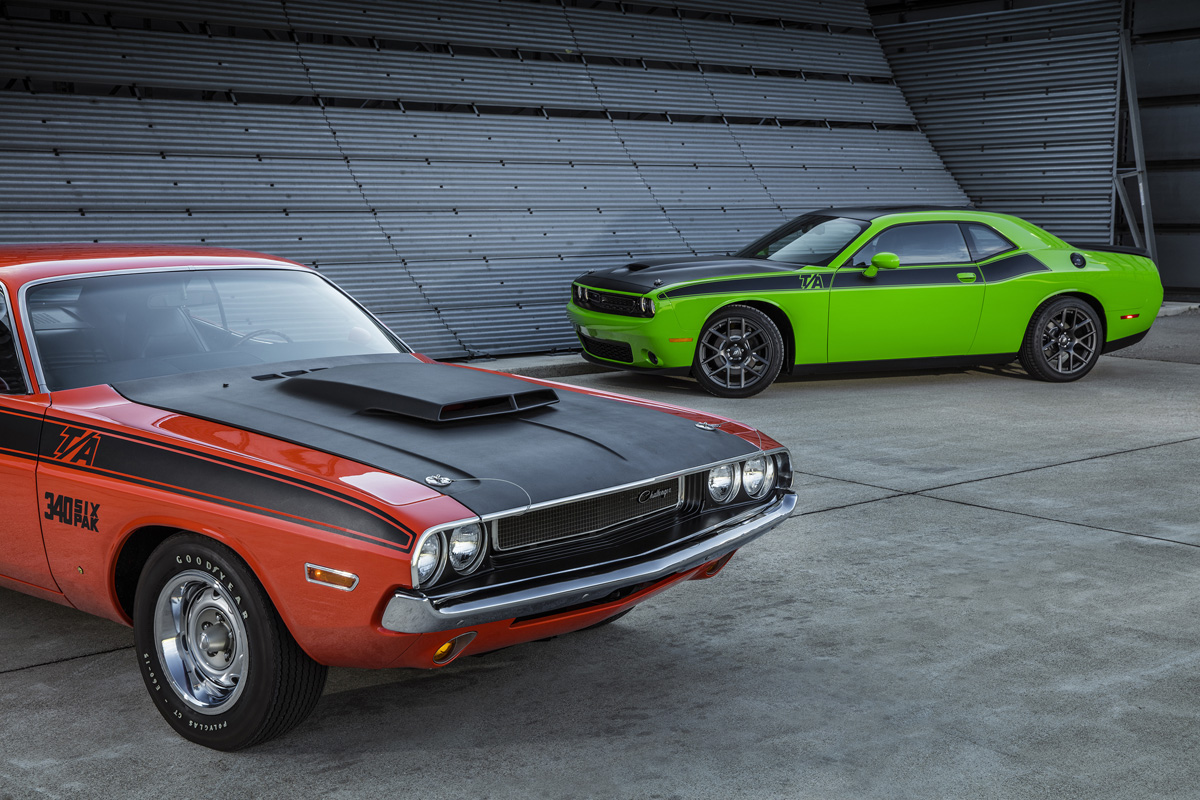 Initially built for the SCCA's Trans Am racing series in 1970 with only 2,399 ever built, and considered one of the most sought after muscle cars of all time, the new 2017 Dodge Challenger T/A model lineup builds on this legacy with three track-capable models loaded with unique appointments and performance hardware – Challenger T/A, Challenger T/A Plus and the Challenger T/A 392.
The new 2017 Dodge Challenger T/A builds on the standard content of the 375-horsepower Challenger R/T model, adding functional performance hardware, which includes the new "Air Catcher" headlamps with LED-illuminated T/A logos; NACA ducted hood now designed to feed a modified SRT Hellcat air box with Mopar conical filter, which optimizes cold air intake through these two signature fresh-air inlets; an all-new 2.75-inch electronically controlled active performance exhaust system; and 1-inch wider 20 x 9-inch Mopar lightweight forged-aluminum wheels finished in Hyper Black II.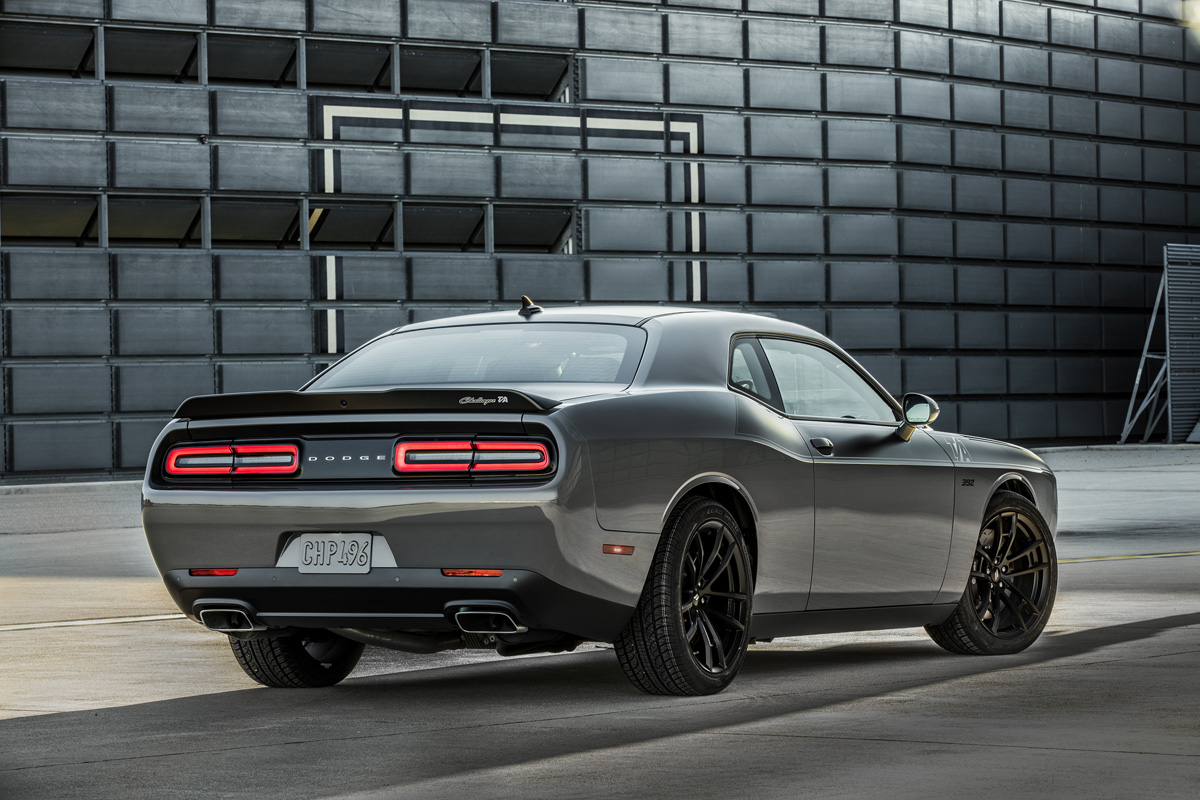 The Super Track Pak adds a full complement of race-bred chassis upgrades, including a 0.5-inch lowered suspension, high-performance Bilstein shock absorbers, performance brake linings, three-mode electronic stability control calibration with "full off" and high-performance Goodyear Eagle F1 tires.
Heritage-inspired Dodge exterior appointments include a new Satin Black painted hood and Satin Black front fascia, roof and deck-lid graphic paired to the T/A bodyside stripes; new wheel center caps featuring the Dodge stripes; "Challenger" script grille badge; Satin Black fuel-filler door with heritage "FUEL" lettering and black deck-lid spoiler with Challenger T/A badge. For an even bolder throwback look to the original 1970 model, factory-installed hood pins are available, along with all-new and limited-production Green Go and Yellow Jacket High-impact Paint. The basic T/A starts at $38,485.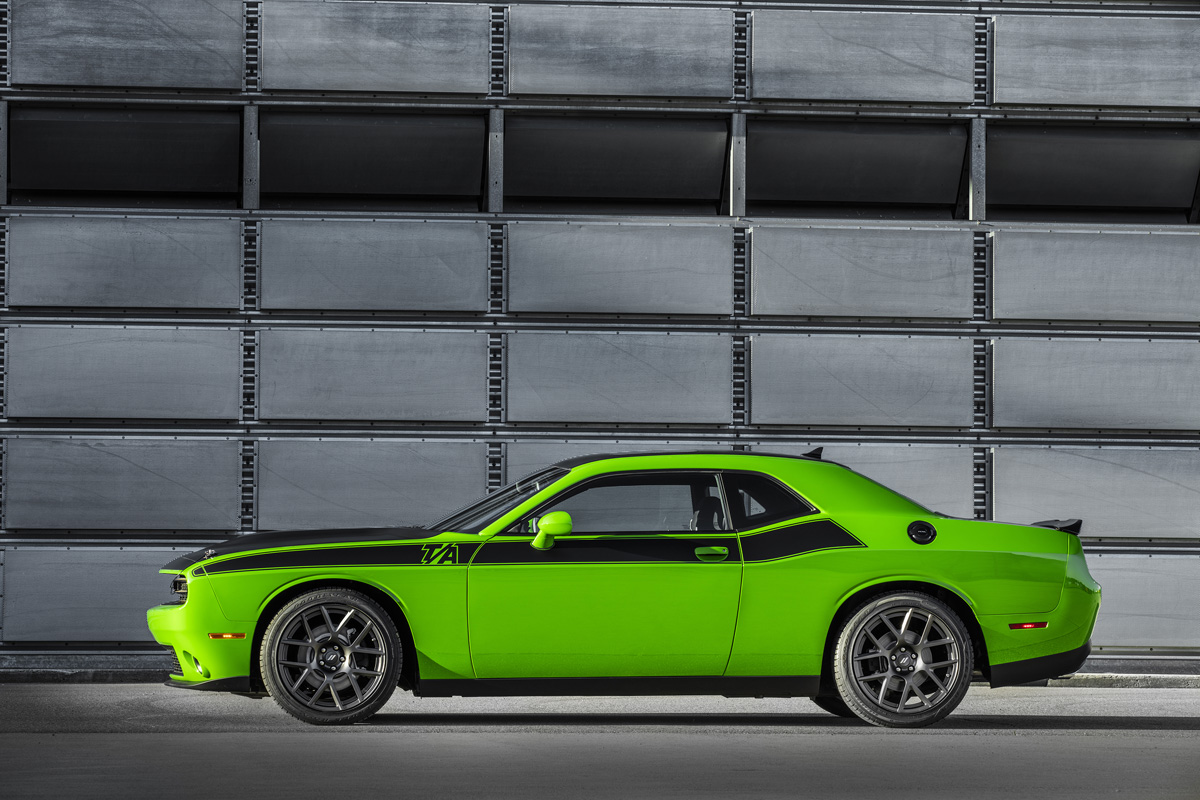 The Challenger T/A Plus adds heated and ventilated leather seats, the 8.4-inch UConnect screen, a leather-wrapped steering wheel, six speakers and a 276-watt amplifier. It also comes with a shortcut button leading to the Performance Pages with the shift lights, 0-60 time gauge, g-force indicator and lap timer. The T/A Plus has a starting price of $41,235.
The Challenger T/A 392 ups-the-ante with a 6.4-liter "392" HEMI V-8 engine that puts out 485-horsepower and 475 lb-ft of torque, which is good for mid 4-second 0-60 mph times and low 12-second 1/4 mile times. In addition to the standard equipment found on the T/A Plus, the Challenger T/A 392 includes signature "T/A Air Catcher" headlamps and directed cold-air NACA duct hood systems connected to the more powerful engine; Brembo six-piston front and four-piston rear brakes with vented rotors, unique front suspension geometry, all-new 20-inch forged aluminum wheels finished in Low Gloss Black, Pirelli performance tires, "392" fender decals, 180-mph speedometer, electronically controlled active performance exhaust system and 220-amp alternator. The Challenger T/A 392 starts at $45,090 (excluding gas-guzzler tax).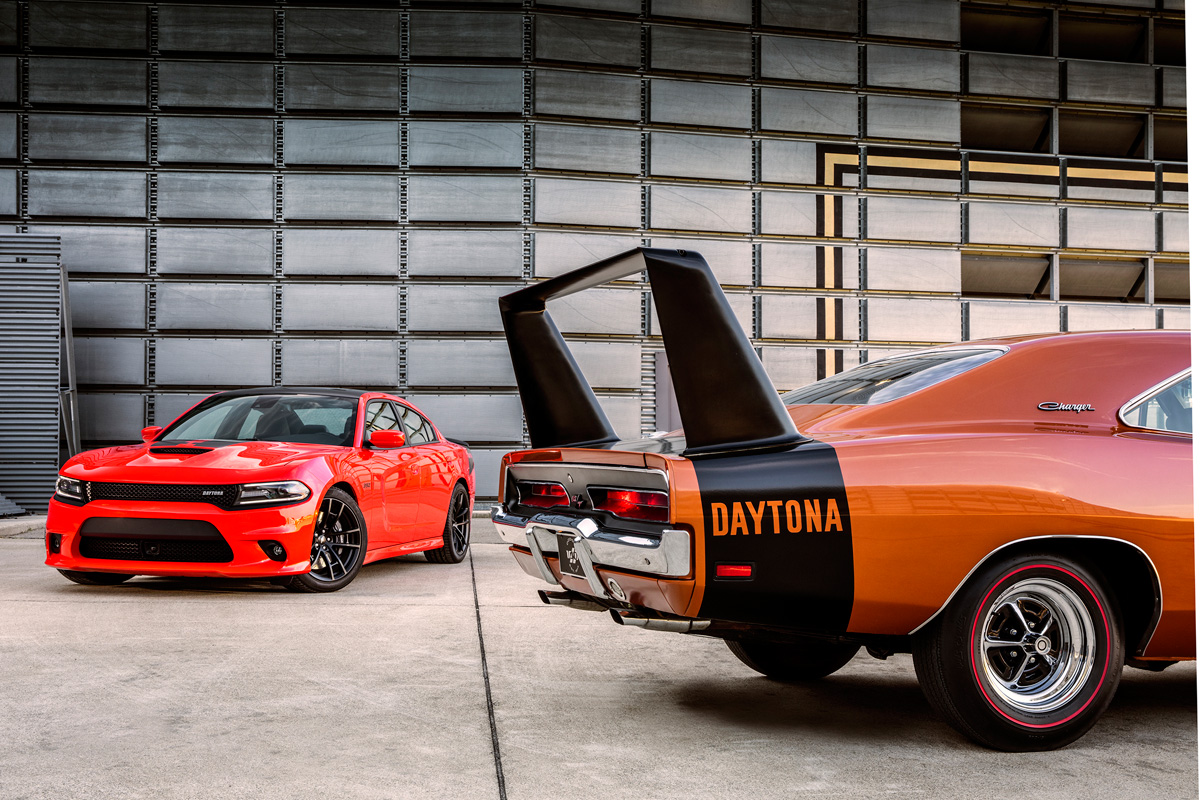 Created in 1969 as a 501-unit, purpose-built production run for NASCAR, the Charger Daytona set records with its distinct aerodynamic styling and legendary power. The new Charger Daytona models build on this celebrated history by adding more performance to their four-door muscle sedan, but sadly they didn't bring back their iconic giant rear wing.
The 2017 Charger Daytona builds on the Charger R/T model by improving the engine's intake and exhaust with a Mopar cold-air induction system with conical air filter; plus an all-new electronically controlled 2.75-inch active performance exhaust system with 4-inch round tips. Also included is the Super Track Pak with its performance-tuned suspension, performance brake linings, three-mode ESC calibration with "full off" and high-performance Goodyear Eagle F1 tires. For improved acceleration and speed, Charger Daytona includes a rear differential with a 2.62 axle ratio, plus performance engine and transmission calibration with a high-speed engine controller (150 mph, up from 135 mph).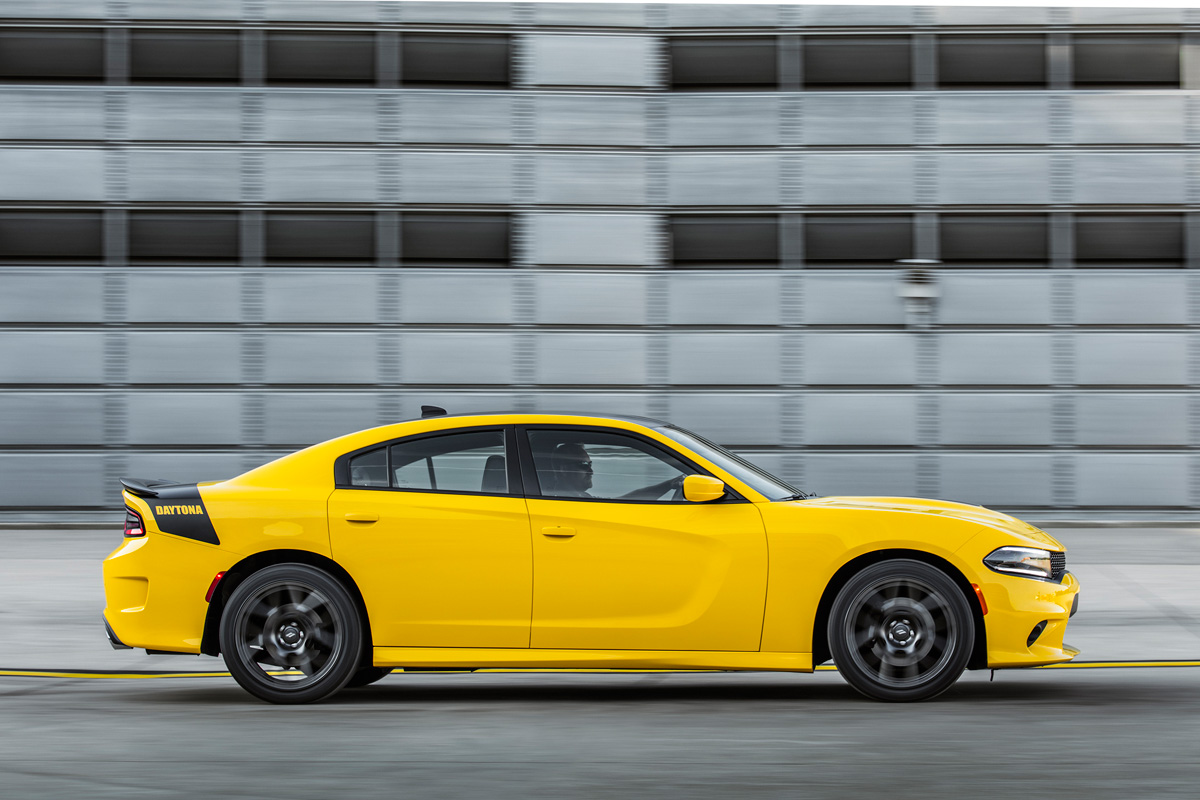 To give it a menacing look, the new Charger Daytona has SRT-inspired front and rear performance fascias, performance side sills and a one-piece Satin Black performance spoiler. A Satin Black hood graphic with the "HEMI" logo highlights the aluminum hood's NACA duct, while "Daytona" deck-lid to rear-quarter graphics are paired with the Satin Black roof treatment for a bold, heritage-inspired appearance. Completing the athletic styling are wider 20 x 9-inch Mopar lightweight forged-aluminum wheels finished in Hyper Black II, Goodyear all-season performance tires (summer tires are optional) with the new center caps that feature the Dodge stripes, plus signature "Daytona" grille badging. The Charger Daytona starts at $40,985.
The Charger Daytona 392 adds the same stuff as the Challenger T/A 392 (six-piston brakes, Pirelli tires, big wheels and a few more decals, along with the 485-hp 6.4-liter V8), and has a starting price of $46,090.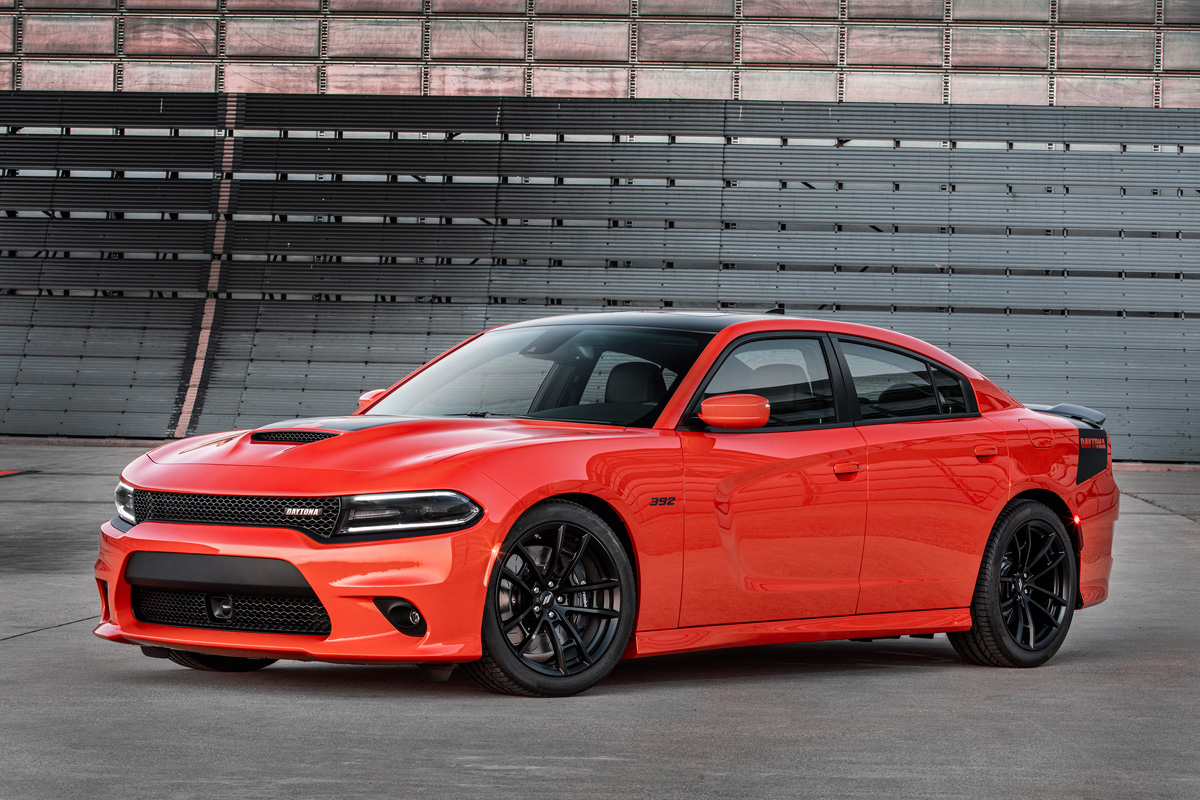 Look for both the Daytona and the T/A in dealerships this fall.