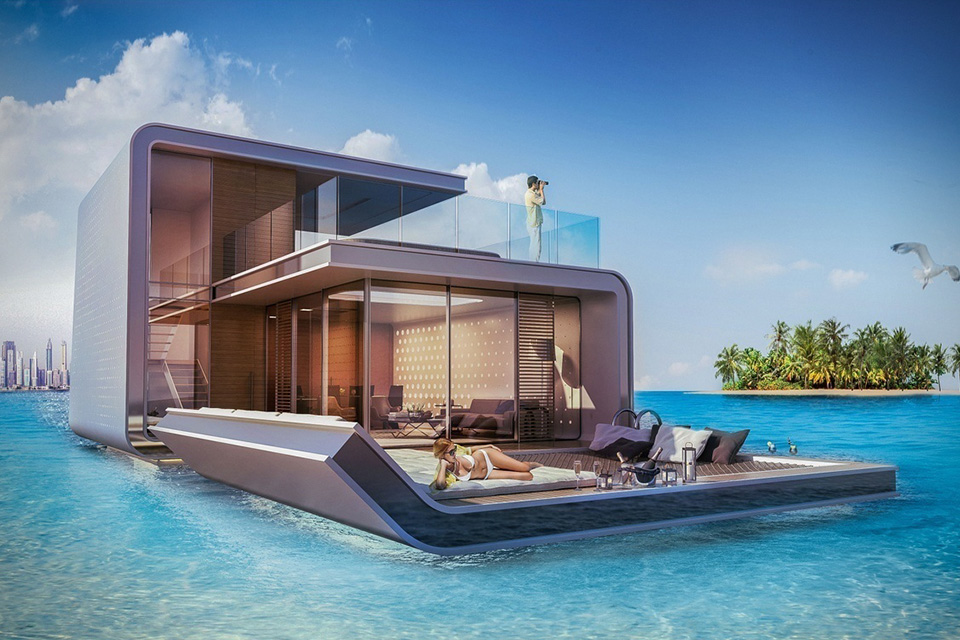 Only in Dubai could someone pull off something as mind-blowing as the Floating Seahorse, a luxury marine style retreat. The Floating Seahorse is classified as a boat (without propulsion) and not a villa, due to the fact that it's not located on land.
The Floating Seahorse has been designed and developed by the team at the Kleindienst Group for the iconic island project, The Heart of Europe. There will be 42 Floating Seahorses built, and they will be located just offshore from St Petersburg and Main Europe Island, which is just a short boat ride from the coast of Dubai.
Each individual Floating Seahorse offers 1,700 sq ft of living space and boasts three levels, one underwater, one at sea level and an upper deck. The master bedroom and bathroom will be totally submerged underwater and will command breathtaking views of the surrounding coral reef and marine life. Sea level accommodation will boast floor to ceiling windows, uninterrupted sea views, a fully-fitted kitchen with a dining area, an open plan living area and a sun deck. This area can also be converted into a bedroom at night as it offers sleeping facilities. The upper deck is the perfect place for alfresco dining and relaxation and features an external shower, an informal bed, a mini bar, a kitchenette and a beautiful glass-bottomed Jacuzzi.
The Floating Seahorse is a truly unique underwater product, and it's the first of its kind anywhere in the world. Many dream about living close to marine life and underwater living, and this is about as close as it gets! The first few Floating Seahorses will begin construction later this year and are scheduled for completion in 2016.