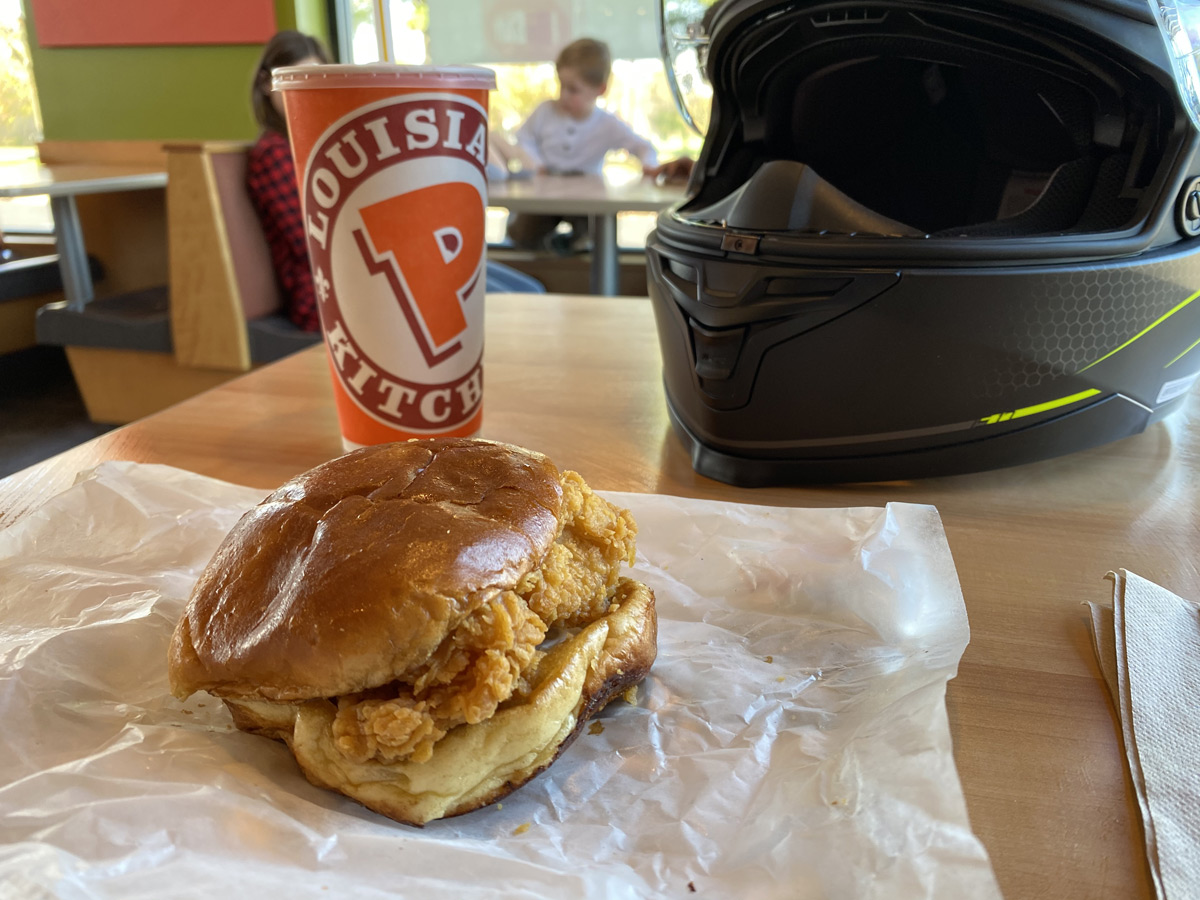 Back in August, Popeyes introduced their all-new Chicken Sandwich, and people were losing their shit over the sandwich, with hour-long lines and such. Before I had a chance to try one for myself, they sold out of them nationwide, with the popular fast food chain selling a month's supply of sandwiches in just a few days. Needless to say, there were more than a few disappointed customers!
Since I didn't get a chance to try out this supposedly life-changing sandwich for myself before it sold out, when I heard that Popeyes was bringing it back on November 3rd, I made a bee-line for my local Popeyes and saw the drive-thru line spilling out onto the main road. Clearly I wasn't the only one who wanted to try the sandwich.
Whatever, I had already driven all the way out here for this, so I parked my bike and made my way inside, where I was greeted by a line that wrapped around the entire restaurant. Yikes! But it's all part of the experience, right? So I proceeded to stand in line.. for over 40 minutes. After placing my order, I was told to wait for my number. And then I waited some more.
Finally, the magic number 73 was called, and I quickly rushed up to the front counter to get my sandwich. The smell wafting from the bag was pretty heavenly, and my stomach was growling, having been teased by the sight of customers eating this magical chicken sandwich around me for nearly an hour now.
I peeled back the wrapper, snapped a quick photo with my greasy hands, and then took my first bite. Was it the spiritual experience that I was expecting? Yeah, it's REALLY good, and it totally blows Chick-fil-A out of the water. Imagine a delicious buttermilk battered and hand breaded white meat chicken filet, served on a buttery, toasted brioche bun with barrel cured pickles and mayo or spicy Cajun spread. My stomach is growling just thinking about it. That said, it definitely wasn't worth the 40+ minute wait.
Once the hype dies down and the lines return to normal, I'll be back for the Popeyes Chicken Sandwich again. After all, I need to decide which one I like better, the regular or the spicy. 😀