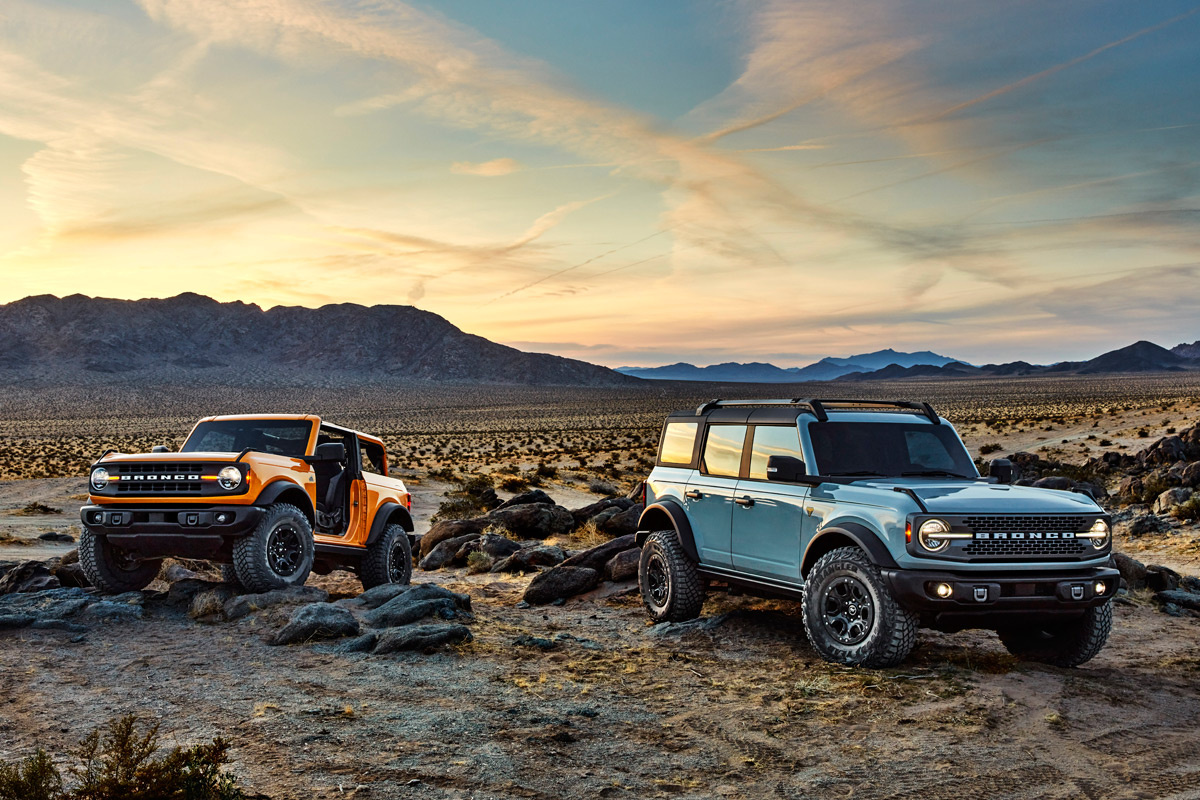 When Ford announced that they were bringing back the iconic Bronco after a 20+ year hiatus, from around the world went nuts. And now, after 3.5 years of speculation, we're finally getting our first look at the new Bronco. And it looks like it was worth the wait!
Feast your eyes on the all-new 2021 Ford Bronco, which made it's virtual world debut tonight. Ford nailed the styling, a throwback to the first-generation Bronco. And this isn't no ordinary mall crawler, this bad boy is ready to G.O.A.T (Go Over Any Terrain), just like it's predecessor.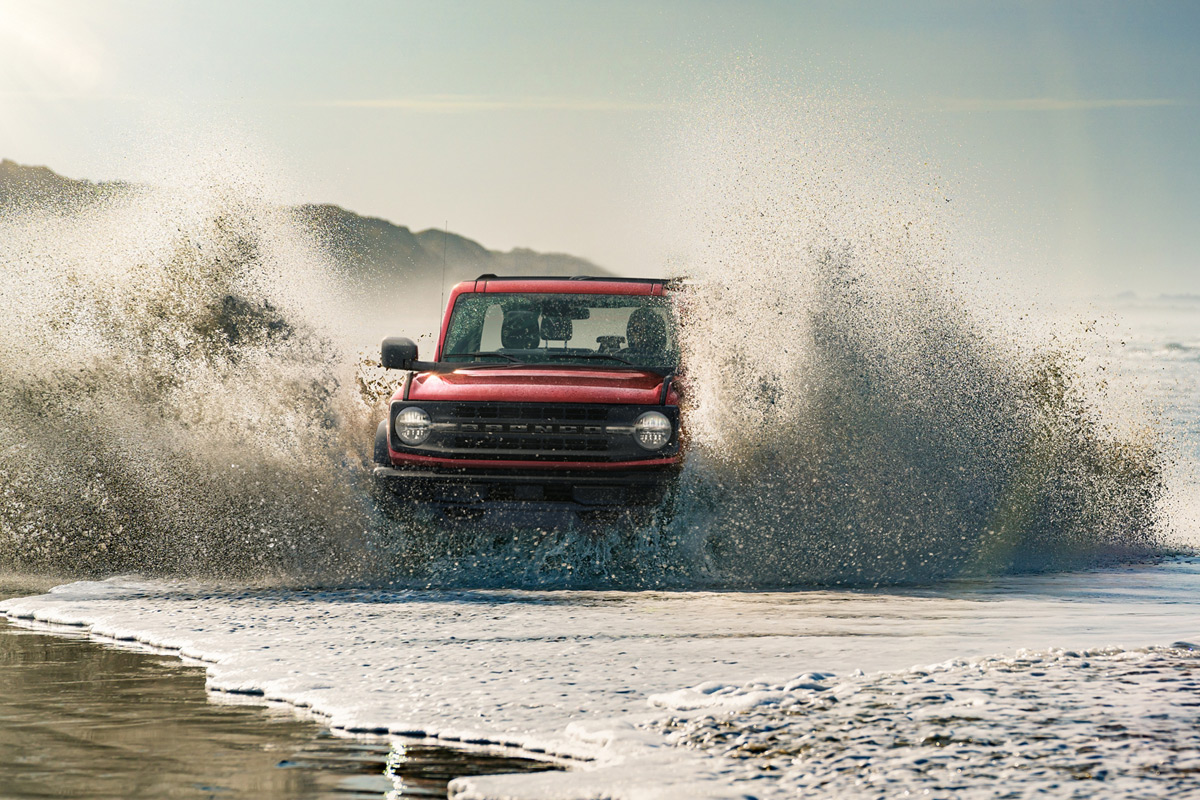 We can only imagine what they must have been thinking over at Jeep, as this is the first vehicle in a long time to post a real threat to their off-roading monopoly. We dove head-first into the technical specifics, and it became quite clear that Ford did their homework, designing the new Bronco to tackle whatever Mother Nature put in your way.
Ford did a good job of explaining the new Bronco in their launch video, so if you're looking for the nitty gritty, I'd start there first. It's about 10 minutes long, but it's worth watching for sure. Afterwards, come back here, and we'll fill you in on the rest of the details that the video didn't cover. You know, like pricing and important stuff like that.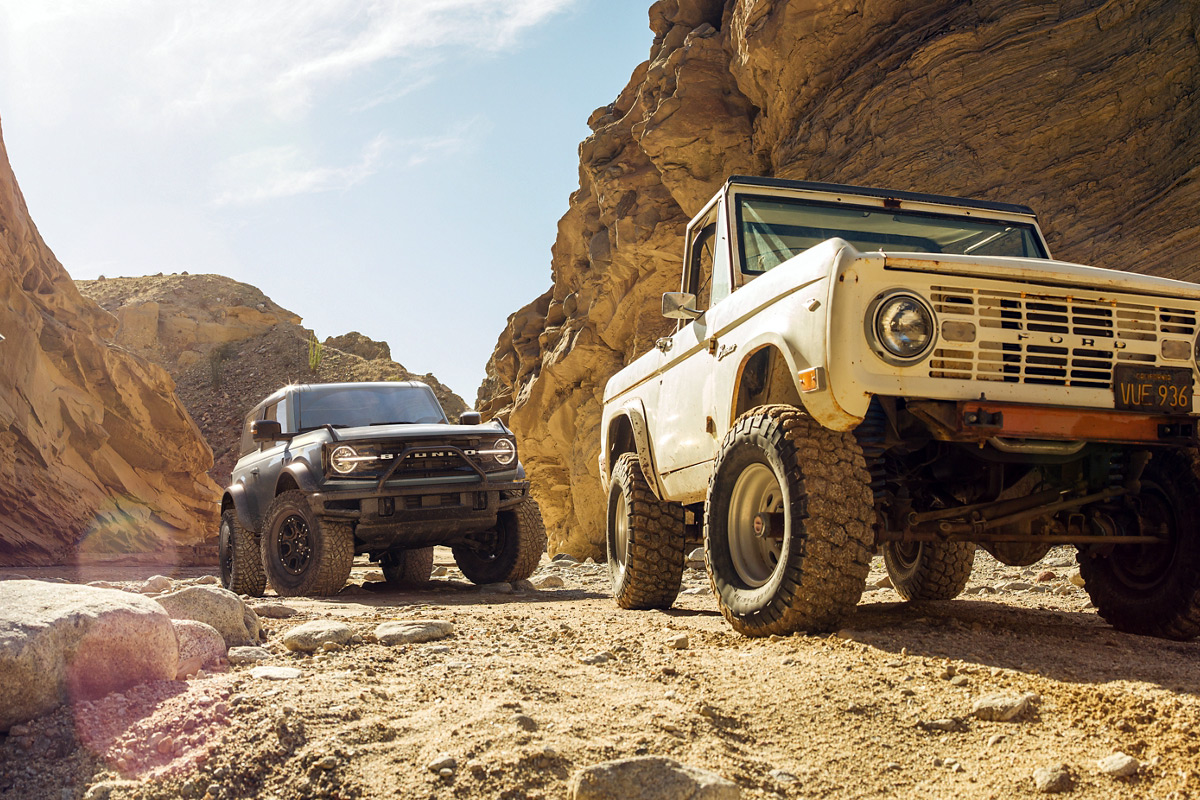 The Bronco can be had as a a classic two-door, or for the first-time ever as a four-door, taking a cue from the Wranger. The base engine is a 2.3-liter EcoBoost turbocharged four-cylinder engine that puts out 270 horsepower and 310 pound-feet of torque, mated to a standard 7-speed manual transmission or optional 10-speed automatic. There's also an optional 2.7-liter V6 EcoBoost engine that delivers 310 horsepower and 400 pound-feet of torque. Sadly, the manual isn't available in the four-door Bronco.
Visually, I love the direction they went with the design, giving this a retro yet modern feel, and nailing the dimensions just right. I'm not 100% sold on the grill or those black things above the headlights, but I'm sure they'll grow on me in time. But other than that, the thing looks killer. As for the interior, they really did their homework, with a ton of great features throughout that true outdoorsmen will appreciate.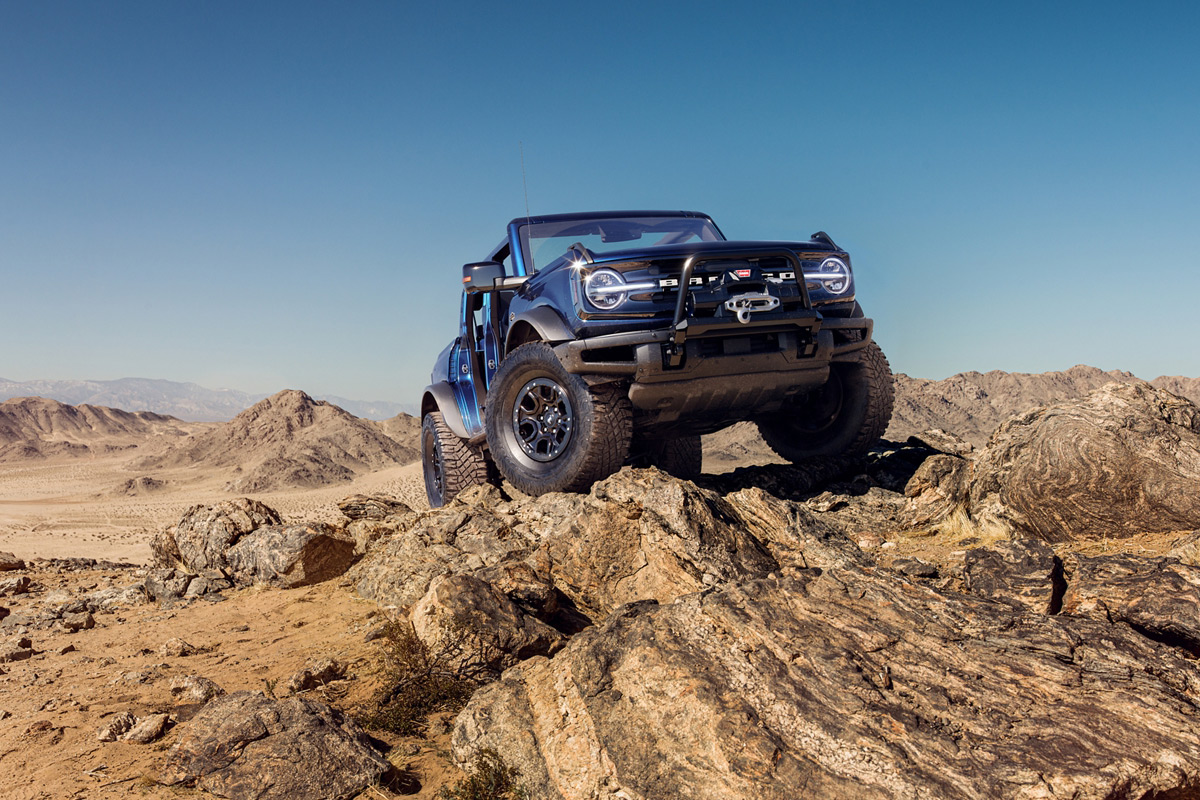 As for how the Bronco and Wrangler stack up on the trails, Ford claims best-in-class 94.75:1 crawl ratio, ground clearance, suspension travel and water fording capabilities, plus breakover and departure angles. Segment-first 35=inch off-road tires are available on every trim level of two- and four-door Bronco, while available segment-first beadlock-capable wheels allow customers to elevate off-road capability.
Bronco two-door and four-door models have quick-release stowable roof panels and doors on select versions; available cutting-edge off-road drive technologies and segment-exclusive digital trail mapping allow owners to easily plan, record and share their experiences via an all-in-one app. A few of my off-roading buddies were seriously geeking out at that last bit.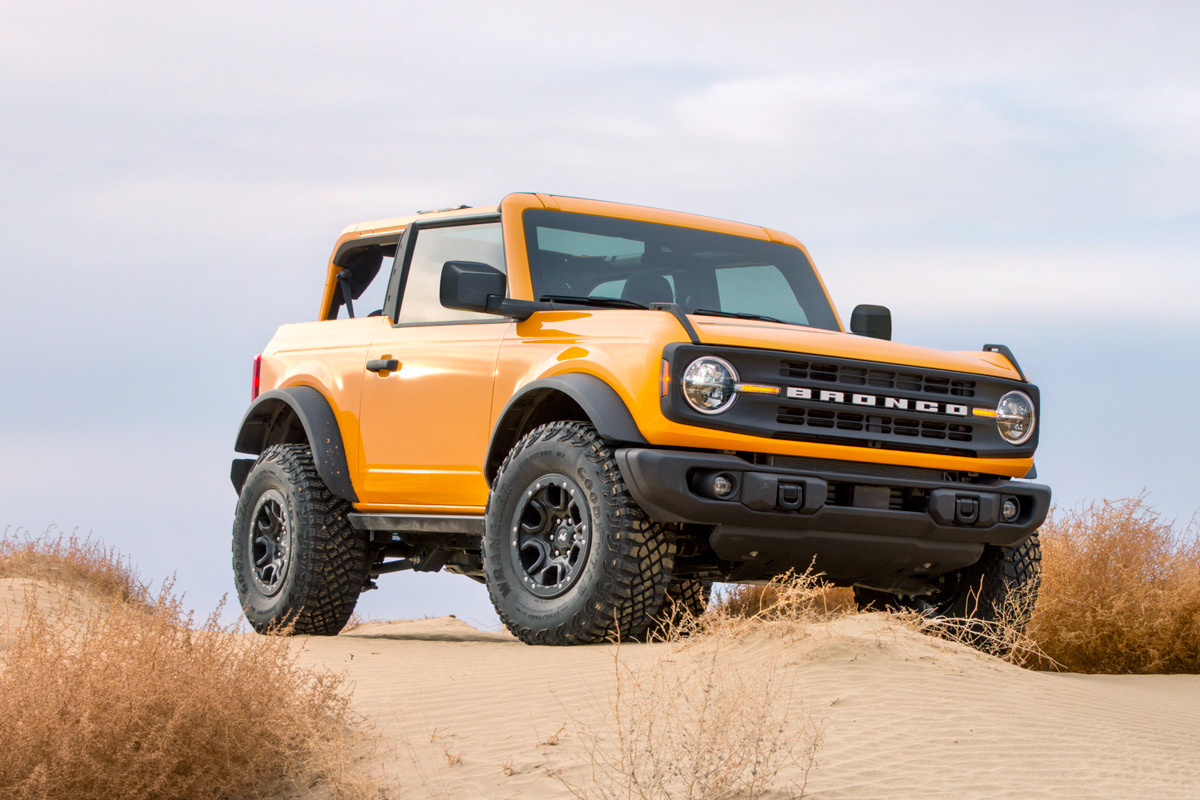 Pricing is something that was only briefly touched upon during the intro video, with them advertising the starting MSRP. But we've painstakingly gone through each model and figured out what each model/package will set you back. You're looking at between $30-60K depending on how you option out your Bronco:
2-Door Ford Bronco:
Base – $28,500
Big Bend – $33,385
Black Diamond – $36,050
Outer Banks – $38,955
Badlands – $42,095
Wildtrak – $48,875
First Edition – $59,305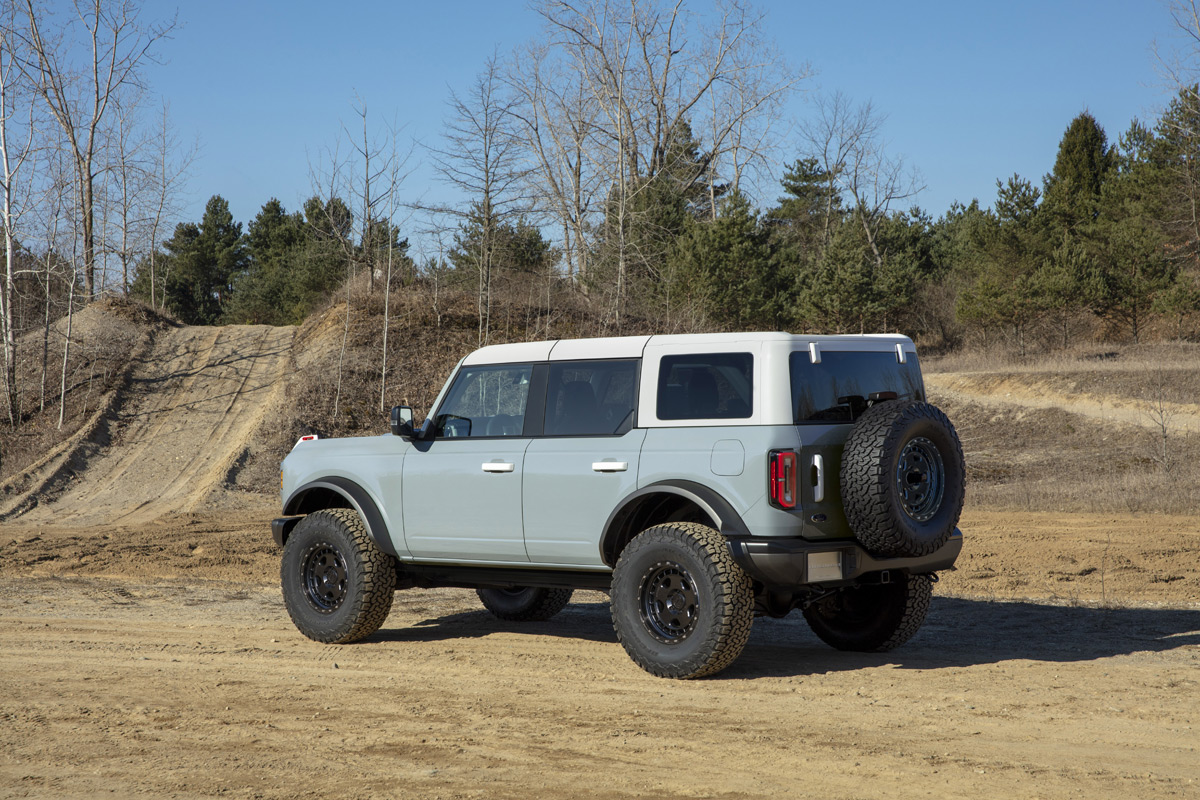 4-Door Ford Bronco:
Base – $33,200
Big Bend – $35,880
Black Diamond – $38,545
Outer Banks – $41,450
Badlands – $44,590
Wildtrak – $51,370
First Edition – $63,500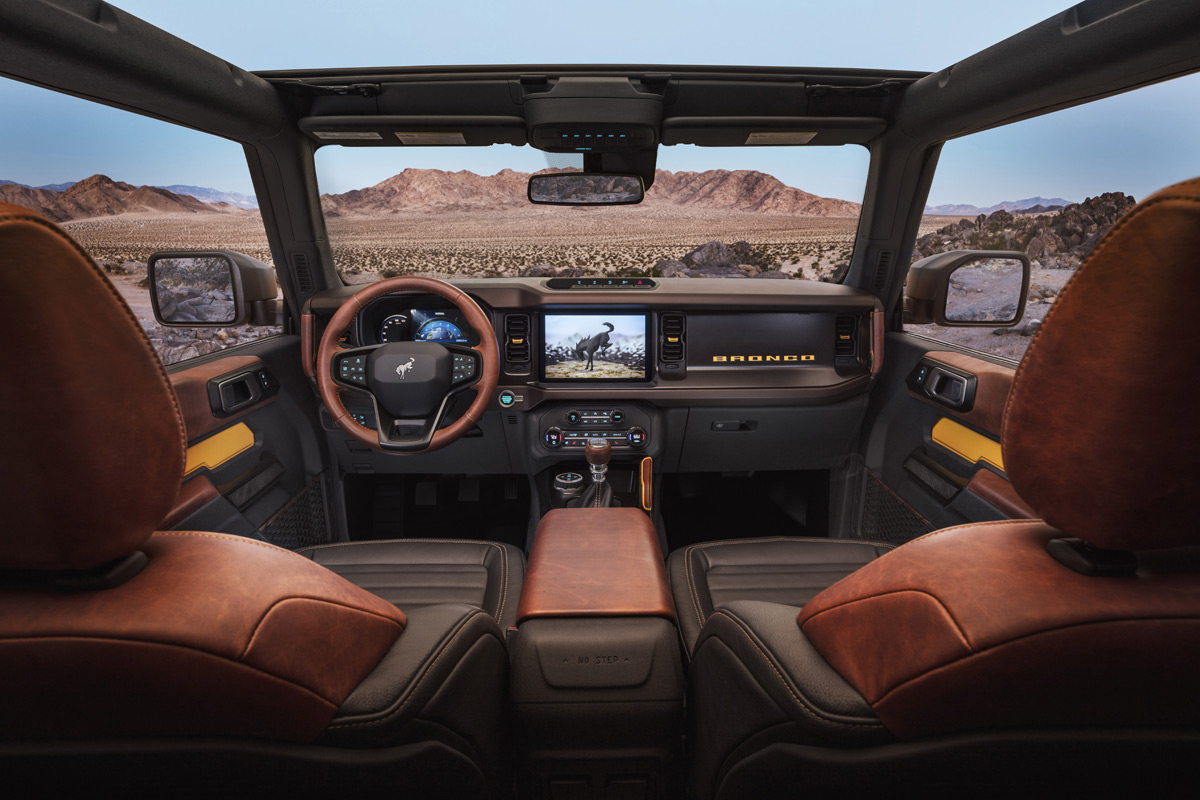 Just like the Jeep Wrangler, there's a substantial price spread depending on how mild or wild you want to go. Amazingly enough, all 3,500 First Edition models have already been reserved, despite the fact that they're the most expensive.
There's even more information on the Bronco that we couldn't begin to cover here, given that the materials were given to us just a few hours before the reveal. But if you like what you've heard so far and want to learn even more, head over to ford.com/bronco and start reading.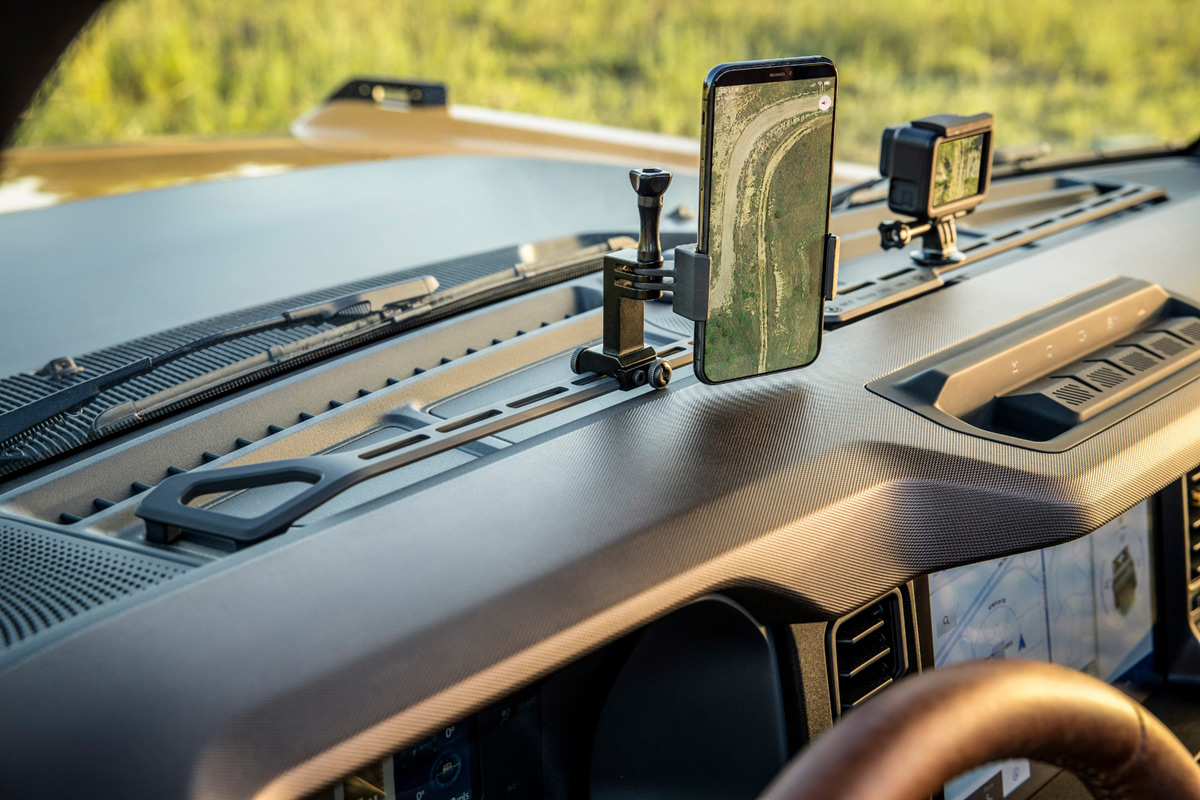 If you're convinced that this is the truck for you, you can place a $100 refundable deposit to secure your place in line. The 2021 Ford Bronco is scheduled to arrive in dealerships in spring 2021 barring any delays due to COVID, and it's sure to be the talk of the town… and the trails!
Something tells me Jeep is going to have to start offering some serious discounts to drive Wrangler sales once the Bronco comes out.
What do you think about the 2021 Ford Bronco, was it worth the wait?