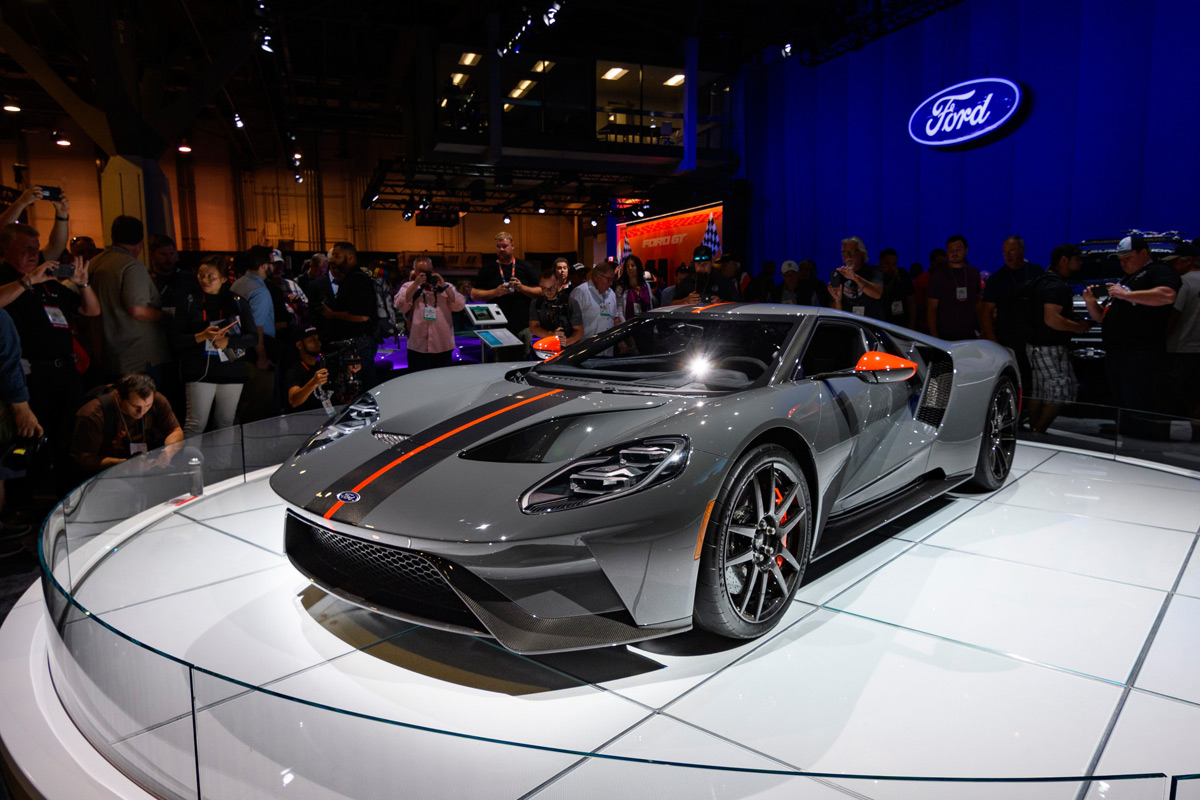 When Ford invited us out to attend the Specialty Equipment Market Association (SEMA) show in Las Vegas with them, I was pretty stoked, as it's one of my favorite car shows, packed with some of the wildest builds you've ever seen. I attended SEMA once before back in 2011, where I walked over 120K steps during the 4 day show. It's absolutely MASSIVE, and it's a dream come true for die-hard car guys!
Naturally, I was curious about what Ford would be revealing here. Modified Rangers? Tricked out Mustangs? Custom F-150s? Sure, the massive Ford booth had all of these and more. But what was the deal with that lone car under wraps, roped off away from everything else?
I can't tell you how many people came up to me asking about this mystery car, figuring that I must know since my SEMA badge said I was with Ford, and I was standing right there next to it. But honestly, I was as much in the dark as they were. I figured that it was a Ford GT, given the low stance and silhouette. But beyond that, it was anyone's guess.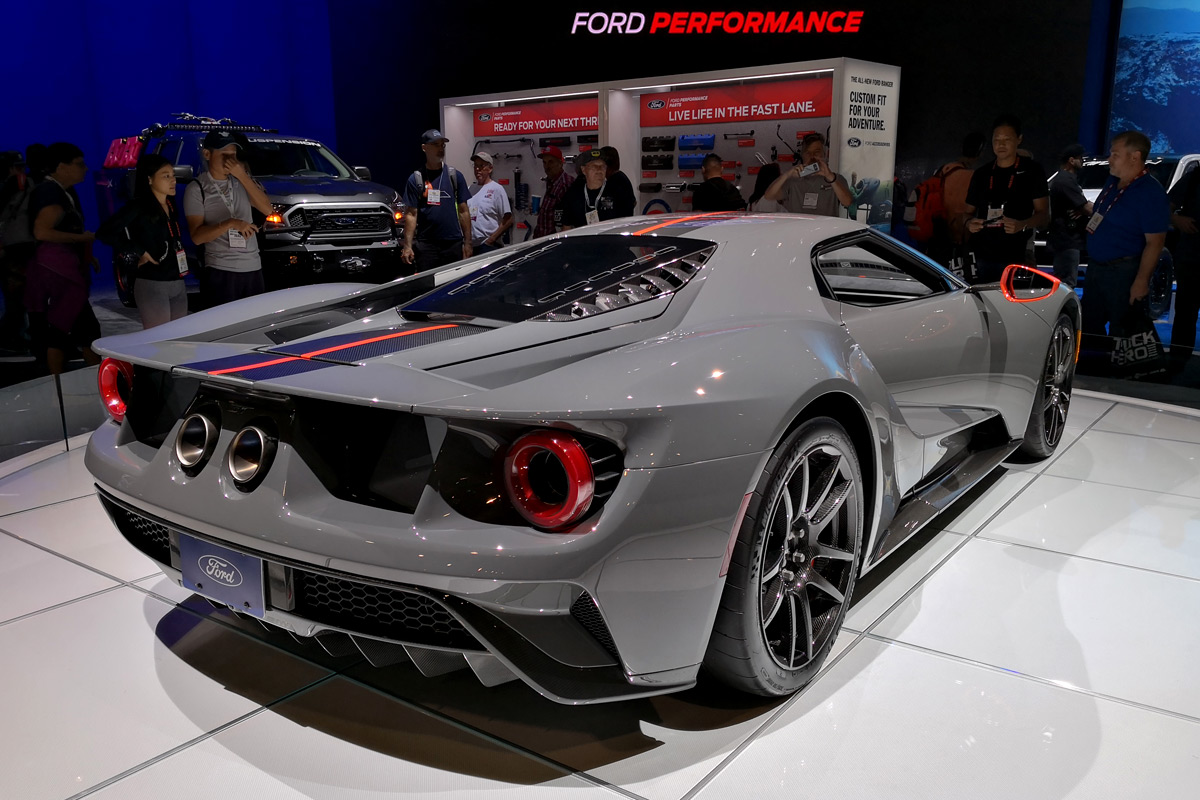 Halfway through Ford's press conference, the cover was finally pulled back, revealing the 2019 Ford GT Carbon Series, the lightest version of Ford's performance supercar yet. At first glance, you might think that the Carbon Series is just another "special edition" with some fancy colors and trim accents. But there's a lot more going on here.
The new limited-edition model sheds nearly 40 pounds thanks to a variety of lightweight innovations such as carbon fiber wheels, a titanium exhaust, titanium lug nuts and a polycarbonate rear hatch with additional venting. But unlike the Ford GT Competition model, which ditched the radio and A/C in order to save weight, this GT still retains those creature comforts, so you can drive to and from the track in relative comfort.
This third Ford GT special edition features more visible carbon fiber than any previous model, along with optional accent colors, to stand out from the lineup and communicate its chicane cravings. The exterior boasts two exposed carbon fiber stripes with matching A-pillars, lower body panels and gloss carbon fiber wheels, while the interior features matte carbon fiber sills, air register pods and center console.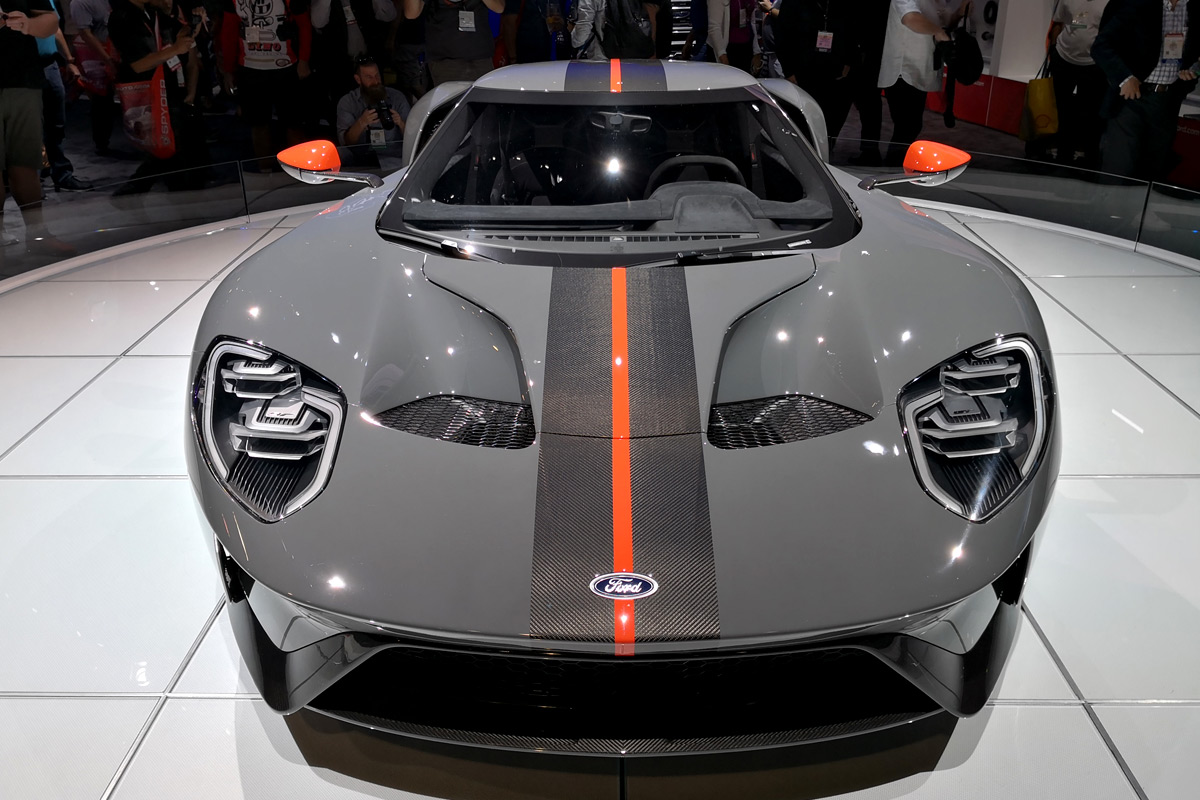 Customers can choose between four optional accent colors (silver, orange, red or blue) for the mirror caps, center stripe and calipers. The Carbon Series also features a unique seat pattern with silver stitching that is repeated on the steering wheel, as well as clear anodized paddle shifters and a unique badge for the instrument panel.
"This is just another example of how we listen to our customers at Ford," says Lance Mosley, marketing manager, Ford Performance. "While the Ford GT Competition model appeals to hardcore racing enthusiasts, we found more customers asking for more exposed carbon fiber with the air conditioning and radio still intact. So we developed the Carbon Series to satisfy that need, while providing a distinct look."
A distinct look indeed! You might not be able to tell from these pictures, but the dual exposed stripes and other carbon fiber treatment takes the Ford GT's looks to the next level (as if that were even possible). Kudos to Ford for continuing to raise the bar on the Ford GT, and thanks for bringing us out to SEMA to get a look at this beauty in person.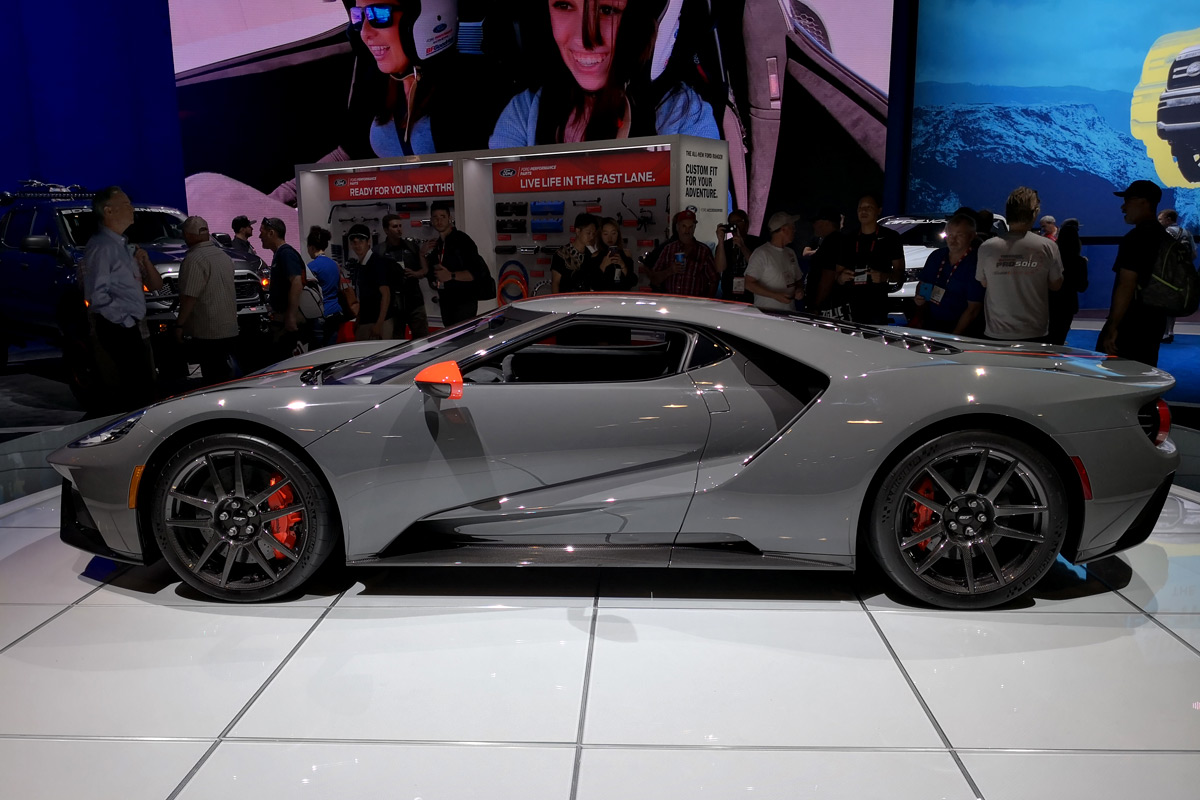 Ford will re-open the application window for the Ford GT to prospective customers starting on November 8th, at which time you'll be able to submit your application at FordGT.com. And if you're lucky enough to make the cut, make sure you go for the Carbon Series.
Trust me, you won't be disappointed!