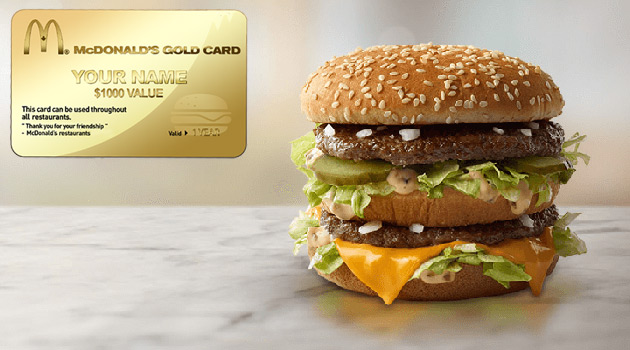 You might brag about your Starbucks gold card, but when it comes to chain restaurant membership perks, nothing beats the secret McDonald's McGold Card, which grants the bearer unlimited free McDonald's.
Don't believe it? Rob Lowe recently came on Jimmy Kimmel Live, where he revealed that he was part of the Gold Card McLuminati, joining the ranks of Bill Gates, Warren Buffet, and Mitt Romney, among others.
Watch the segment and see for yourself:

(Weird, the video has since been removed. I guess the McDonald's illuminati doesn't want people knowing about this magical card)
So how exactly did the Hollywood actor score his prized McGold card? Just wait until you hear this story..
"My buddy in Santa Barbara, his dad was one of the original McDonald's franchisee and he invented the Egg McMuffin. He invented it and that to me is the greatest human achievement.
"He invented Ronald McDonald. He's the guy that said to Ray Kroc you should have like a pedophile creepy looking clown."
It turns out that Lowe was telling the truth, and his buddy's Dad (Herb Peterson) was a legendary force in the fast-food world, who debuted the first Egg McMuffin at the Santa Barbara McDonald's that he co-owned with his son in 1972. Pretty crazy stuff, right?
All I know is that if I had access to this card, I'd probably end up on a future episode of My 600-lb Life.